Help
Our Concept
We started our GemRoss Collection in 1997. We have been creating jewelry for more than 10 years now and continue to refine and explore new design possibilities. Our goal as a company is to produce the finest jewelry possible with Australian Opal, tanzanite, amethyst and mystic topaz. GemRoss Collection is unique because we are a family business focused on quality craftsmanship and superb customer service.
We offer excellent value to our customers by being making the best quality jewelry.
We also offer custom jewelry. Which means you can send us your design and we make it for you the way you like. Just from a picture of your product or a sketch we surely can make your design.

Customer Service
GemRoss.com customers are all over the world. If you have a question about a piece, or your order, be sure to email us. One of our Customer Service representatives will be happy to assist you.
Want to contact us? Please use the Contact Us page to contact us .
Our Shopping is Secure
We accept credit / debit cards and PayPal. Both methods are highly secure and safeguarded by the latest 128 bit SSL technology. You are assured peace of mind when you shop for jewelry at GemRoss.com!
Please for your safety you can see "Site Security Check" section on the right side. Our website is 100% Secure for your personal information. We do not share or give your information to third parties.
We Ship to You, Wherever You Are
We ship our jewelry worldwide and offer a flat shipping rate . All orders are processed and in the mail within 24 hours* of your order.
We're sure that you will love our amazing jewelry as well as our prompt, professional customer service. Be sure to let your friends know about the stunning jewelry and service you receive at GemRoss.com!
*Depends on the item/s availability.
Address:
Calle 7 No 451 22 x 24 Merida Yucatan Mexico 97133
From US / Canada: 323.473.3013
From Mexico: 01.55.4169.1642
Ordering & Billing
Q: Where does GemRoss.com accept their orders from?
A: We accept orders from any country. But we also reserve the right to reject any orders which we believe to be fraudulent.
Q: How will I know if my order is confirmed?
A: If you provided a valid e-mail address during the registration process, you will receive an e-mail shortly after you completed your online order. if your order is paid, your status will be Processed, if not Open or Failed.
Q: When will my order be shipped?
A: Your order will be shipped within 24-48 hours once your payment has been verified and your order has "Processed" status. All orders received on Saturday, Sunday or public holidays will be processed on the next business day.
Q: How will I know my order is shipped?
A: You will receive and email from us with the tracking number, also you may check if your order has been shipped at My Account page. You can track your order online at www.fedex.com. Note: All orders placed on Friday, Saturday, Sunday or public holidays will be processed on the next business day.
Q: How can I pay for purchases made at GemRoss.com?
A: You may pay by credit / debit card / American Express or Paypal.
Q: What credit cards does GemRoss.com accept?
A: We accept Visa, Mastercard and Discover. But you can also pay by American Express or eCheck thru Paypal.com.
Q: How safe is it to shop online at GemRoss.com?
A: Using your credit card to shop at GemRoss.com is completely safe. See how lock appears on the secure pages. Cart page and your account page, where all the sensitive data is. When you use your credit card to shop at GemRoss.com, rest assured that the transaction is secure. GemRoss.com together with our online payment solution providers, use the latest 128 bit SSL technologies that safeguards your personal information and guarantees privacy. In fact, shopping online at GemRoss.com is much safer than using your credit card at a restaurant or gas station. Give it a try and see for yourself why shopping at GemRoss.com is 100% safe--guaranteed.
We use GeoTrust to protect your sensitive data.
Q: Can I cancel my order?
A: Yes, you can cancel your order anytime before your order is shipped, which is typically within 24-48 hours after your payment is verified. Simply send us an email indicating the Order ID number, the Billing Name, Billing Address and the reason for canceling your order. Please do not send any credit card information using email. Once the order has been shipped, you may return the items after you receive them. Please refer to more information on Returns & Exchanges here.
Q: If I decide to cancel my order, can I simply refuse to accept the order when it is delivered?
A: After you placed an order and once your payment has been verified, you are obligated to the purchase. You may return the items if you are not 100% satisfied. However, if you refuse to accept the order shipment when it is delivered to you, we are not able to process the return.
Q: What do you do to prevent fraud?
A: We have embedded very comprehensive fraud prevention measures within our order processing procedures. We screen through every single transaction for suspicious activity before each order is shipped. When we find an order to be suspicious, we will immediately contact the related parties to carry out more extensive investigations; and when necessary, legal actions will be taken.
Ring Size
Determining your ring size is important for engagement possibilities and for simply finding a comfortable fit. This ring sizing chart will help you find the exact size of ring that will fit your finger in the most comfortable manner. It may take a few minutes of careful measuring, but the effort is worth it!
1. Cut a strip of paper about 5" long and about 1/4" wide.
2. Inspect the hand that will be wearing the ring. Find the widest part of the finger. Often, this will be at a joint, but it may be in a number of locations and may differ from hand to hand. You can use an old ring to help find the widest spot.
3. Wrap the paper strip around the widest part of the appropriate finger.
4. Use a pen or pencil to mark the point on the paper where the ends of the paper strip overlap (form a complete circle).
5. Use a ruler to measure the length from the outside end to the mark on the paper to the nearest 1/16" of an inch (decimal equivalents are given in the table) or millimeter, rounding up if necessary.
6. Find the closest measurement on the size chart to determine your ring size. Use millimeters for a more accurate size.
US
Canada

Measurement
mm/inches

UK
Pts: Price in Points
Pts: Points
Each item has its points calculated by its price. All the registered customers who made his/her order will get reward points. You can see the points you will be earning by registering with us.
Once the order has status of "completed" then the buyer will get his/her points and will be able to use it as a discount or free shopping.
To be able to use the points buyer has to register at the checkout page before making any payment, so we can also register points to his/her account.
Happy Savings!
Benefits of Registering
To create a GemRoss.com account, you must first register. Just click on My Account or Register at any page, provide your information, e-mail address and password and you're ready to go.
Register Now
Once you're registered, take advantage of these benefits:
Express Checkout
Enter your billing and shipping information, and all future checkouts will take only a couple minutes. Your credit card information are never attained by our server; therefore, you have to enter again at every checkout.

Save your shopping carts
Save your shopping carts and assign names to them. You can easily restore the saved carts for future checkouts. Please note that some items may be sold, even though they are in your saved cart. We recommend that you purchase the pieces you like right away.

E-mail Updates
Get the scoop by signing up for specialized e-mail updates on new items, sale or promotion. You can unsubscribe from our newsletters at any time.

Order History
If you've placed an order, you can determine its status, plus check on the order dates and order numbers for items you've purchased in the past.

Reward Points
All registered customers gets a percentage from their orders called Reward Points. Use them with your future orders and save more.

Forgotten Password
Forgot your password? Make sure that you are entering your e-mail address and password exactly as when you registered. Forgot your password? Click Here.
Free Gift Packaging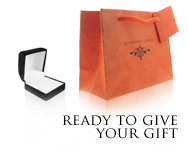 Ready to Go!
With GemRoss, your gift packaging and card needs are taken care of. Your gift will be delivered in distinctive, black velvet packaging. It's elegant enough to skip the wrapping paper, and we'll even enclose a free gift card if you like. So, whether you order a gift to give to a friend personally, or have us deliver your gifts directly, your recipient is sure to be impressed.
Free Gift Cards
To send a free card with your gift, go to checkout page. Then enter a personal message at the end of the checkout page, which will be printed on this distinctive card and tucked in with your gift.
Shipping & Delivery
Q: What shipping method(s) can I choose from when I place my order?
A: We only use FedEx to ship your jewelry:

1) Express - FedEx 2 Day is our preferred express shipping service, however at times, we also utilize service from UPS, or DHL. Handling time is 2 business days usually.


Q: Is my order insured?
A: Yes, we take order fulfillment very seriously. All shipments are insured by default.

Q: What is your shipping rate?
A: The shipping rates for each country are different, and are calculated automatically during Checkout process. Our shipping rates for both Domestic and International orders are very competitive.

Q: How are the orders packaged?
A: We take order packing and shipment very seriously. All items will be carefully packed in jewelry boxes prior to being packaged in high quality bubble envelopes.

Q: Your international shipping rates are much lower than other online shopping Web sites; is the service compromised in anyway?
A: We have arrangements with our shipping service providers to provide uncompromised shipping and delivery services to customers around the world.

We are always working hard to ensure that our customers are receiving the best service in the industry. The low shipping fees is just one of the incentives we provide for our customers.

Q: How long after I place my order will it be shipped?
A: We will ship your orders within 48 hours once your payment has been verified. If your payment is verified during Friday, Saturday, Sunday or public holidays, your order will be processed on the next business day and shipped within 48 hours thereafter.

Q: I would like to have my order shipped to more than one address. How should I go about this?
A: If you would like to send a shipment to more than one address, you can create shipments from your account after you register with us.

Q: How can I track my order once it is shipped?
A: Once you order is shipped, you will receive a notification email from us. A tracking number will also be emailed to you, so you can track your shipment at www.FedEx.com.

Q: How long does it take before my order will arrive?
A: For Express shipping, you will generally receive the order within 2 to 3 business days from the shipment date.

Q: Is a signature required for the recipient to receive a shipment?
A: Yes, for security purposes, we require a signature by the recipient of every shipment. No shipment will be delivered without a signature by the recipient.

Q: What do I need to know about custom clearance?
A: You may be subject to import duties and taxes, which may be levied once a shipment reaches your country. Additional charges for customs clearance are to be borne by you as we have no control over these charges. Customs policies may vary from country to country; to attain more information, you should contact your local customs office for further information. All orders shipped will be marked as "Gifts" or "product samples".

Q: What should I do if the shipment is damaged upon delivery?
A: Don't worry! The first thing you should do is contact us immediately and explain the situation to us. We will very quickly investigate the situation and guide you through the process of rectifying the problem.
Shipping & Handling
Free Shipping
We're proud to offer free UPS® shipping on every order to US, Canada and Mexico.*
Shipping Partners
After your item has been packaged, it will be shipped and delivered free via one of the following carriers and methods.


*Except Australia. There would be $54 USD charge for Australian orders.
Signature Requirements For Delivery
For shipping destinations we require a signature for delivery regardless of any waivers you have from

UPS

®. These requirements are for your protection.
Since jewelry is often given for engagement or another special occasion, we will be extremely flexible to help you create a wonderful surprise. We can expedite your delivery for a fast-approaching special occasion, or we can ship your order to an address other than your home to help you maintain your surprise. And please don't hesitate to contact one of our jewelry consultants for any special requests
Terms and Conditions
The following terms and conditions are applicable to all orders placed on GemRoss.com. We have tried to keep these simple but in case of any queries please contact customer services.

Product Pricing
All products and prices including special offers are subject to change or discontinuation without notice. Whilst we try to ensure prices and product information is accurate on our web site, we reserve the right to refuse or cancel any orders (even if the payment has been charged) for goods that have been advertised at an incorrect price, showing the wrong photograph or description.
If we discover any pricing errors before we process your order, you will be notified immediately with the option to re submit your order at the correct price or cancel the order.

Product Images / Specifications:
Whilst we endeavour to ensure all images and specifications are correct at the time of publication, they do vary. As such we can accept no responsibility for incorrect images/information. If however you spot a mistake with an image or with a products specification please let us know here.

Product Availability
All products are subject to availability and can change prior to delivery without notice. If this is the case, you will be notified by phone or email.

Incorrect Goods
It is your responsibility to notify us of any incorrect goods supplied within 3 days of delivery. If the items is not what you ordered, you must not worn the jewellery or use it. We send all our jewelry with FedEx and if there is a problem with the wrong delivery, we will contact FedEx and arrange a re-delivery for the package, in this case your delivery can have a 2-3 more days of delay. We would let you know the situation and do our best to get the package to you as soon as possible. Please be patient, as in this sort of cases its not our companies fault and we guarantee to get the item to you as soon as possible.

Data Protection
The Supplier will take all reasonable precautions to keep the details of your order and payment secure but unless the Supplier is negligent, the Supplier will not be liable for unauthorised access to information supplied by you.

Force Majeure
The Company shall not be liable for any delay in or failure to perform any of its obligations hereunder if the delay or failure is due to causes outside the reasonable control of the Company, ie acts of god, riots, floods, fire, earthquake, war , civil commotion etc...

Applicable Law
These terms of sale and the supply of the goods will be subject to English law and the English courts will have jurisdiction in respect of any dispute arising from the contract.

With this Terms & Conditions you accept to receive your order within 4-5 days time. Eventhough we send all our jewelry with Fedex 2 days Express but there can always be a delay in human world. We have the responsibility to inform you if any delay occurs.

Note:
Terms and Conditions are subject to change without notice. E.& O.E.
Specifications and prices are subject to change without notice. E&OE. All trademarks and registered trademarks acknowledged.
These terms and conditions do not affect your legal rights and we reserve the right to change these terms and conditions at any time without prior notice

GemRoss.Com
Return Policy
Return & Refund
GemRoss.com is committed to your satisfaction. Every single item is thoroughly inspected to ensure that it meets our high standard of quality before it is packed for shipment.

If you are not 100% satisfied with the items received, we will gladly refund the items purchased. Please refer to our return guidelines and easy instructions below:
You may return the purchased items within 20 days of your order's shipping date.
If you wish to return a product, simply send an email to our Customer Service. We will then guide you through the process. Please remember to include your name and Order Number.
Only items that are in their original conditions may be returned. Any product that has been used or worn may not be returned.
Refunds will be processed within 7 days after the items are received. Refunds will be given for the original purchase price indicated on your receipt. Please note that we can refund shipping costs only if the return is a result of our error, otherwise shipping charges are not refundable. See also Terms & Conditions page please.
Credits on returned merchandise will be refunded to the original credit card or Paypal account. Please allow 1 to 2 billing cycles for the credit to appear on your statement.
If a buyer gets a ring without selecting her / his ring size then we send what we see on our orders system. We do not accept returns if a customer selects wrong ring size. if we send a wrong ring size (other then a customers selected ring size ) then we can refund a $10 USD to a customer to resize it her / him self.
We can not refund any shipment charges. If you did not pay any shipment because you were given a free shipment with your purchase we would charge only $24 usd to cover shipment charge. (US and Canada only) Outside US and Canada would be a different charge, please consult shipment charge with your country. We hope you would understand that fedex / ups still charges us even if we dont charge you.
Any return jewelry should be sent with registered mail.
We appreciate your co-operation and hope to make you one happy customer.
Privacy policy
GemRoss.Com Global Privacy Policy
We have created this privacy statement in order to demonstrate our firm commitment to privacy. The following discloses our information gathering and dissemination practices for this website: www.gemross.com
We use your IP address to help diagnose problems with our server, and to administer our Web site. Your IP address is used to help identify you and your shopping cart and to gather broad demographic information.
Our site uses cookies to keep track of your shopping cart and to make sure you don't see the same ad repeatedly. We use cookies to deliver content specific to your interests and to identify you with subsequent visits.
Our site's registration form requires users to give us contact information (like their name and email address). We use customer contact information from the registration form to send the user information about our company. The customer's contact information is also used to contact the visitor when necessary during a credit card transaction. Users may opt-out of receiving future mailings; see the choice/opt-out section below.
This site contains links to other sites. www.gemross.com is not responsible for the privacy practices or the content of such Web sites.
Our site uses a secure order form for customers to request information, products, and services. We collect visitor's contact information (like their email address), unique identifiers (like their mailing address and phone number we never keep or even an access to our clients credit card information, this is done via our merchant company PayPal), and demographic information (like their zip code, age). Contact information from the order form is used to send orders and information about our company to our customers. The customer's contact information is also used to get in touch with the visitor when necessary to verify the order. Demographic and profile data is also collected at our site. We use this data to tailor our visitor's experience at our site, showing them content that we think they might be interested in, and displaying the content according to their preferences. Credit card numbers are NEVER seen by us when the Secure Encryption Server is used by you to place your order.
This site has security measures in place to protect the loss, misuse and alteration of the information under our control. We utilize industry standard SSL encryption when accepting your credit card information during our online checkout process. In addition, with the PayPal secure e-commerce system, your credit card information does not reside on our server. Instead, once you submit your order, your credit card information is immediately encrypted (or scrambled) and this encrypted series of numbers goes directly to the PayPal server for de-encryption (unscrambling) and then verification of credit card authenticity, address verification and card members account balance. If your credit card information is authorized then a message goes back to the merchant without any credit card information. The merchant is informed that the transaction is approved or not approved. The chances of your credit card information being stolen from your order processing (you placing an order) is very remote if not impossible. It has been shown that your credit card information is more likely to be compromised from your last visit to your local restaurant than through a secure internet transaction.
For credit card usage policies relating to a specific credit card, please contact the issuing bank or credit card company directly.
In addition, any disputes between www.gemross.com and individual customers may result in possible arbitration of the particular issue. We will do our best to help resolve the concerns only after all avenues between www.gemross.com and customer have been exhausted.
BillMeLater
FREE FINANCING FOR YOUR PERFECT PIECE
GemRoss has teamed up with Bill Me Later to offer Free Financing at the checkout.
Enjoy No Payments and No Interest if paid in full in 6 months on
Bill Me Later purchases of $99 or more. Simply choose Bill Me Later when you check out with PayPal.
Interest will be charged to your account from the purchase date if the purchase balance is not paid in full within 6 months.